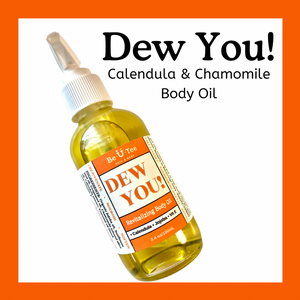 This soothing and nourishing body oil is infused with calendula and chamomile. It is perfect for all skin types, including sensitive skin. Calendula and chamomile have powerful anti-inflammatory and antibacterial properties that help to soothe and heal dry, irritated skin. Vitamin E oil is a natural antioxidant that helps to protect the skin from damage.
Our Dew You body oil is also non-greasy and absorbs quickly, so you can use it without feeling sticky. It is a great way to hydrate your skin after a shower or bath or as a massage oil.
Benefits:
Soothes and heals dry, irritated skin
Protects the skin from damage
Non-greasy and absorbs quickly
Great for all skin types, including sensitive skin
Ingredients:
Organic Jojoba Oil, Organic Sunflower seed Oil, Grapeseed Oil, Calendula and Chamomile infused Olive Oil, Citrus Essential Oil Blend, and Vitamin E Oil
How to Use:
Apply a few drops of oil to your skin after a shower or bath.
Massage the oil into your skin until it is absorbed.
FOR EXTERNAL USE ONLY. USE CAUTION IF ALLERGIC TO RAGWEED. IF AN ADVERSE REACTION OCCURS, STOP USE AND CONTACT YOUR PHYSICIAN.
Ten percent of the net profits at BeUTee Bath & Body goes to support local domestic violence resource centers. Your purchase makes a difference. Thank you!
U DEFINE BEAUTY, NATURALLY! TM